Specialized staff training for positive outcomes while coping with COVID-19
In the wake of disruptions caused by COVID-19, school districts face the enormous task of meeting the emotional and educational needs of K-12 students.
To help meet this challenge, Education Stabilization Funds, provided through the CARES Act, are available to assist educators across the country in responding to and recovering from COVID-19.
Healthier Generation can help you create and implement a plan to reduce the impact of COVID-19 on the health and wellbeing of your students and staff.
See how our services directly support approved activities under the CARES Act.
What We Offer
Coaching and Professional Development
District staff receive personalized coaching & training from Healthier Generation experts with years of on-the-ground experience helping make youth-serving environments healthier. Our experts provide:
Customized training on our continuous improvement process and a range of topics including social-emotional learning, staff well-being, physical activity, and school meal programs
Step-by-step guidance on Healthier Generation's digital Action Center
One-on-one virtual coaching sessions to support planning, implementation and sustainability of programming
Ongoing virtual technical assistance
Exclusive access to Healthier Generation's online tools and resources to help district leadership more effectively support schools
Built-in Tools for Schools
By enrolling in Healthier Generation's Action Center, schools will have access to a digital hub dedicated to helping create healthier environments for students and staff. Within the Action Center educators will find:
Virtual tools and resources for building school and out-of-school wellness teams
Online program assessments and action plans to track progress
Tools and templates to comply with federal school health regulations
Virtual training center featuring live and on-demand trainings to bolster school wellness
Expert guidance from national school health experts
Direct assistance available from Healthier Generation's support team
Assessment data reports that track progress toward health and wellness goals
Relevant e-communications to build knowledge and encourage progress
Data & Reporting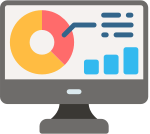 Healthier Generation's robust data systems provide unique, detailed reports about district and school progress towards creating healthy learning environments.
Exclusive Benefits

Tailored communications
with resources and information to meet your needs

Turnkey training
communication and promotional materials to deliver to schools

Personalized, real-time support
through our Member Engagement & Support Team
Why Choose Healthier Generation?
Healthier Generation is a leading children's health organization that works alongside schools and youth-serving organizations to ensure every child can grow and thrive.

We use an evidence-based approach

We're focused on physical and social-emotional health

We provide comprehensive assistance

We make it easy and rewarding
"
"If I didn't have Healthier Generation on my side, I couldn't do my job. As a part-time wellness coordinator, I don't have time to identify resources, develop content and recognize and celebrate all of our schools. Healthier Generation has been with us every step of the way."
- Kate Turner, Wellness Coordinator
Durham Public School District, North Carolina
Contact us to learn about paid services