Kids Lead the Way in Nutrition and Creativity
Healthier Generation and Del Monte Foods have teamed up to bring joy to your kitchen. We're pairing tasty meal and snack recipes with fun, simple activities that let kids lead the way.
Snacktivities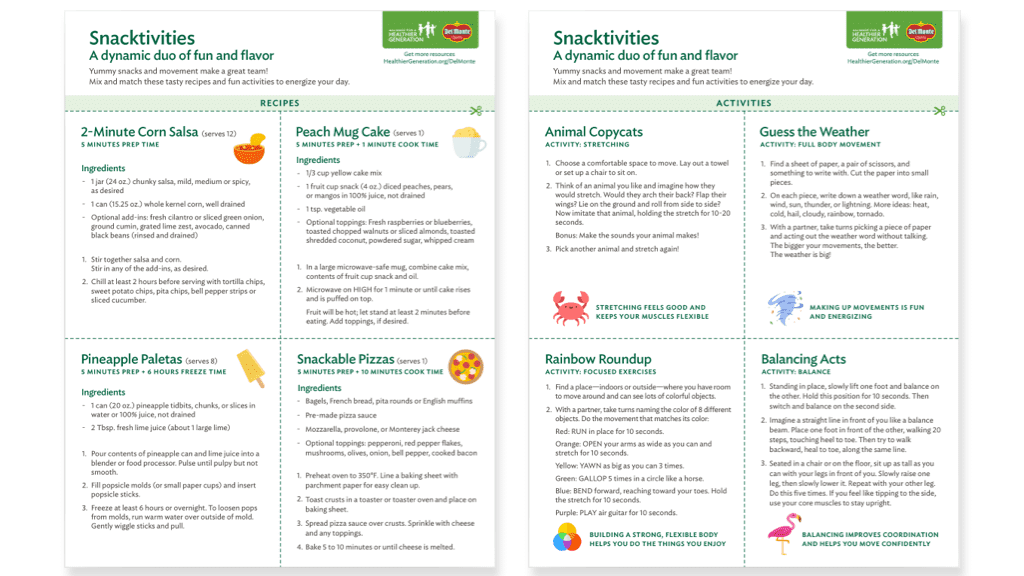 When young people have opportunities to take the lead in preparing and sharing family meals, they learn about nutrition and food science, practice math and creative skills, and explore their senses and cultures. Plus, they are more likely to try a variety of nutritious foods. These skills will set them up to make healthful decisions now and in the future.
Our printable cards let kids choose the "snacktivities" that appeal to them, making it easy for parents and caregivers to nourish kids' bodies and minds with choices they feel good about. Each recipe involves colorful ingredients and simple instructions, and each activity inspires movement and imagination among kids and adults.
Quick Cook-Along Videos
Follow along as we put together tasty meals with ingredients
from the pantry
.
Kid-Friendly Recipes the Whole Family Will Enjoy
Recipes that include a mix of canned, fresh, and frozen fruits and vegetables can help kids practice a variety of food preparation skills while offering lots of flavor and nutrition. Try these recipes with your family!
Quick, homemade guacamole is the star of this wholesome, no-cook lunch. For extra heat, add more hot sauce.
For a simple step to easy entertaining, serve one or all of these quick, vibrant hummus dips with veggies, grilled baguette, or pita chips.
Satisfy your pizza cravings with quick fix snacking pizzas using bagels, English muffins, pita, or French bread!
Refreshing, vibrant pineapple popsicles are fun, all-fruit treats simply made with two ingredients.
Satisfy your fruit dessert craving in a snap with ingredients right from your pantry.
Refreshing, vibrant mango popsicles are fun and simple to make with just 1, 2 or 3 ingredients.
Getting a protein and veggie breakfast quickly is easy with a microwave. Try this burrito stuffed with egg, spicy diced tomatoes, and corn.
The vibrant combination of sweet yellow corn with zesty salsa is perfect as-is or with any of the optional add-ins.
More Resources from Healthier Generation and Del Monte Foods
In partnership with