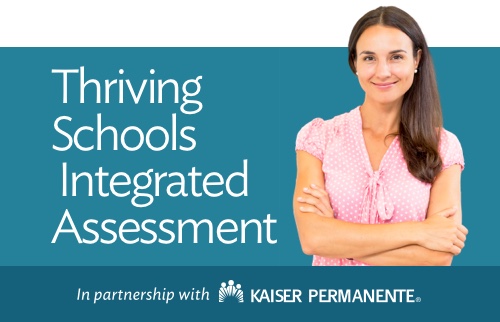 Advance health and learning with an integrated approach
Create a learning environment that promotes student achievement and the well-being of kids, teachers, and staff.
The Thriving Schools Integrated Assessment helps schools and districts quickly and easily identify strengths and opportunities for improving policies and practices in the ways that matter most to them.
Build a team, track progress, and access resources and trainings at no cost in the Healthier Generation Action Center.
Help your school support the physical, social-emotional, and mental health of students and educators
Helping Schools Achieve Their Goals
Available at no cost
Easy to access
Self-paced and flexible
Evidence-based
Aligned with educational priorities
Tailored to schools and districts
Expand Your Impact
Use Healthier Generation's Action Center to:
Build a team to support collaboration
Identify priorities to focus your efforts
Create action plans to map a path to success
Access resources and trainings to advance your goals
Track progress to visualize change over time
View reports to evaluate and celebrate
"
"The new Thriving Schools Integrated Assessment will help us to continue to build sustainable programs and practices which support the health and wellness of both staff and students."
– Carla Feltz, Community Outreach and Engagement Coordinator
Vancouver Public Schools
Topics in the Thriving Schools Integrated Assessment
Advancing Core Policies & Practices
Increasing Family & Community Engagement
Improving Nutrition & Food Access
Enriching Health Education
Implementing Local School Wellness Policy
Bolstering Physical Education & Activity
Strengthening Social-Emotional Health
Cultivating Staff Well-Being
Promoting Tobacco-Free Schools
Supporting School Health Services
Reducing Chronic Absenteeism
Addressing School Discipline
Fostering Positive School Climate & Culture
Building Staff Capacity
Quick Tips for Getting Started
Know where you want to focus? Jump right into the topic area of your choice.
Not sure where to begin? Start by answering the questions in the Advancing Core Policies and Practices topic area to help you determine priorities.
Create a custom assessment